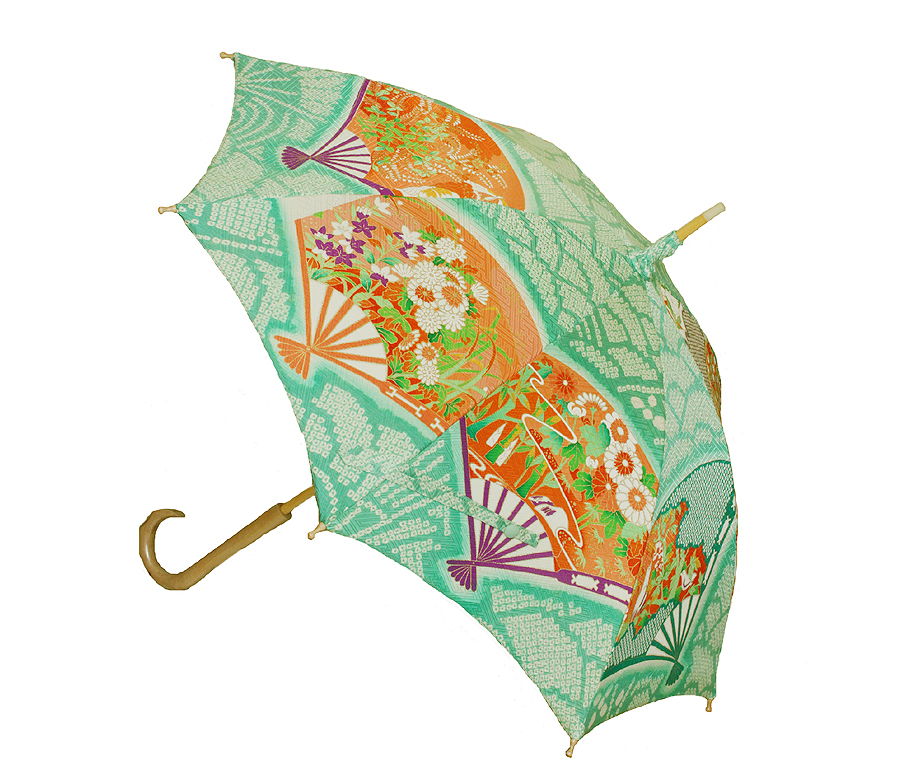 Maioogi

Price :

$119

Size :  Ribs length 47cm
silk100% made in Japan

・Shipping Fee are required in addition to a price. >>more
・Payment methods: Paypal

It is one very luxurious parasol which treated a dancers fan using the gilt thread to the base of the spotted pattern of the emerald green to hark back to the sea which cleared up here and there.
A gorgeous dancers fan using an orange and the red gilt thread shines in a refreshing color of the emerald green and is finished in a very younger feeling.
Of course it is the UV cut parasol which ultraviolet rays measures are enough for.
Small-sized folding fans are popular to see it by trains well but a large-sized folding fans are just fresh in contrast with it recently.When in a train,it is support you.
Of course I think it to be that you are familiar with scenery because it is a color to harmonize naturally even if you go out.In addition It change quickly to the UV cutting item at such time.
The handle is natural plain wood and the bone is silver.
The fabric is Japanese-made 100% silk.
It is finished with Ultra-violet blocking spray.

※Please note that the colors on the photos may be different from the actual colors due to the browser or the environment you use.
※Due to the features of remade Kimono shirts, please note that they may have slight wrinkles and or stains. Please check the product carefully on the photos on the website before placing an order.
All of our products are unused items, but is made of real used Kimono fabric. We describe about obvious stains or spots on the photos as well as product descriptions, but please note that there may be other tiny stain or spot.